Greetings to all you readers out there! Finally found some time to do a quick post on what I usually have on my face when I'm out & about since I have gobs of questions on how I do my makeup, what products I use, my skin care regime etc, over at formspring. Not really a tutorial though, just a quick explanation on just my makeup alone.THANK GOD FOR INTERNET!!! (I really am too lazy to be taking my dslr out to snap photos of whatever shit nits I use on my bloody face la lol.)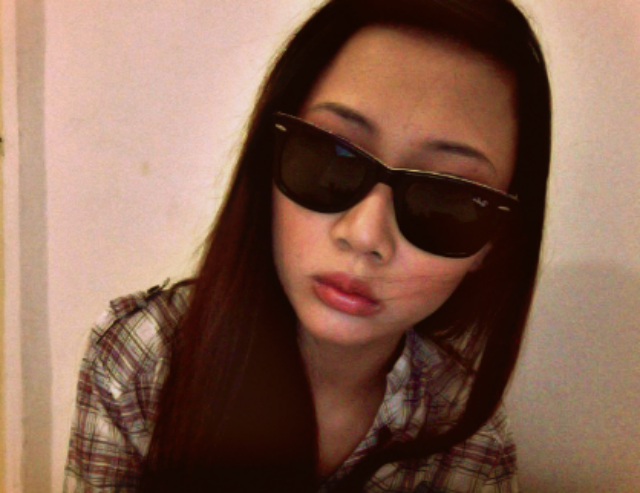 Make up base/primer is ESSENTIAL. It acts as a barrier to protect your face against the damage caused by your foundation and whatever makeup you slab on your face every single day. It's like...a mask you use when you're sick, a condom to prevent unwanted pregnancy, medicine for your face so it'll be better to take on the hassle and use it if you dont want bad complexion! You girls can choose to put sunscreen/toner/moisturiser before starting with your base or primer but for my case, I'm too lazy for all that. I'll just cleanse my face after showering then start with the base itself. I use Rachel K's CC cream (below) to cover all my imperfections, redness and uneven skin tone which could also act as a bb cream. Not only that, it'll whiten, brighten and moisturize your face. All this for only about $40ish? I got mine from sloane clinic quite sometime ago so I'm not too sure bout the pricing now. You can get yours online too!







After I'm done with the base, I'll just lightly powder my face with a brush. Currently using MAC's studio fix in NC30. Think it's about $45-$50 in stores? You'll have to touch up often though cause SG's weather is terribly hot so your foundation might look all runny. Remember to not apply too much cause it'll get cakey if applied too often!


Now it's time to give your cheeks a little color! Yes, I no longer use blusher, instead I got bronzer as a replacement. Bronzer helps to define your features and especially for someone chubby like me, it's almost an everyday essential! I apply it on my jawline, cheekbones and sometimes on the apples of my cheeks to add a little color. I got mine at Tangs Benefit, shade's in dallas at only $50ish? Plus it lasts really really long...I've been using mine for almost 8 months and there's still like plenty of it left!


I use gel liner to line the top part of my eyes. It's so much easier to create that cat-like look with a gel liner than a liquid liner. Got mine @ any leading department stores cause it's maybelline! Good, smudge proof & affordable.


Then I line my waterline to join with my top-lined lids using Chanel's Le Krayon Khol in Noir 61 (black) at $50-ish?


After all the lining I put on my lashes. You girls can choose to put mascara first before applying falsies but I'm just TOO LAZYYYYY lol. Curl your lashes first! That'd make the job of applying lashes much easier. A good lash glue is also essential to looking good with falsies. You wouldnt want your falsies to be sticking out while you're partying your night away right? I recommend darkness's eyelash adhesive. It's super durable and it comes in black (they have white ones but they arent as strong and adhesive as the black ones) instead of white!!! The trouble of drawing eyeliner to cover the hideous white lash glue is now no longer a must. All this for just $8! You can get yours online or straight off the racks at far east plaza/sasa outlets.


And the type of lashes I use all the time are all found below! Hope this answers the questions I've been receiving over at formspring over these months. All of them can be found in sasa. Price wise, the 1st & 2nd pics are sold at about $7-9 dollars if I'm not wrong. The 10 pairs in a box (last pic) are my favourite! Long & not too fake-looking. Its only $22! So a pair cost like...$2? Ridiculously cheap!


Once you're done with your falsies, you apply mascara and I mean GOOD mascara. I recently got benefit's they're Real mascara and it lengthens and volumes like crazy! Honestly I dont even have to put falsies to have long lashes. This mascara works it's job. Guess that explains my love for benefit's products huh? Haha. Their packaging are always so eye-ctaching and cute! I got this pretty dang good mascara at only $50ish? Worth the money! But do be careful when applying it girls cause the mascara's pretty wet and liquified so remember to wait till it dries for a few secs before batting your eyes (after applying) if you dont wanna get smudges.


Eyeshadow aren't a must for most of us but I like to put them on to make my double eyelids look a little more visible since I don't use double eyelid stickers. I use big beautiful eyes from benefit, selling at only $60 in Tangs. They'll provide a guide inside the casing itself on how to apply the eyeshadow for bigger looking eyes and there's even concealer to conceal imperfections within your eye area! Sweet or what?


Last step to my usual makeup regime would be the lips! I am really really dependent on Elizabeth Arden's 8-hour protectant lip balm and I bring it with me everywhere I go -even in school lol! It's colorless and it hydrates like crazy so I'll usually apply this before applying lip stick/lip gloss to give my lips that extra nourishment & protection it needs. A balm packed with hydrants in less than $20!


I dont usually do gloss, I am a boring, stick-to-one-shade-of-lipstick kinda girl. So lipstick wise, I use Chanel's rouge coco shine in shade Evasion 48. Bought it at only $40ish? It's not really matte-looking so I dont have to constantly worry bout my lips looking too harsh or aged.




And yup, that's all for the list of products I use on my face. Hope that helps! I'll be back with my first vlog post and of course the baking post I promised a few days back. I just cant seem to find free time to get online these days! I'm living a really tiresome life... ):

Here's some photos I took with photobooth a few days ago hehe.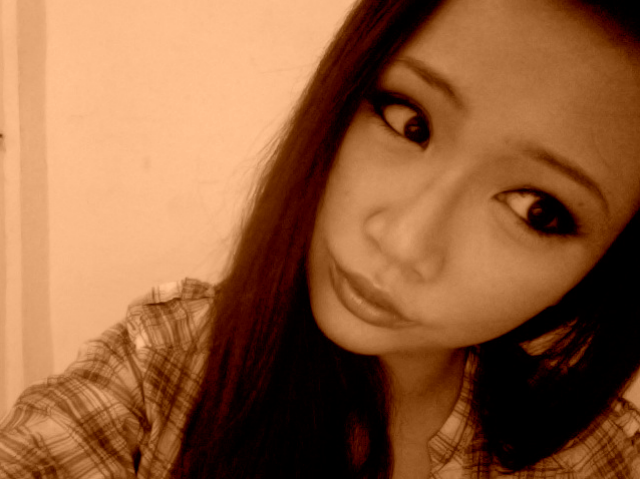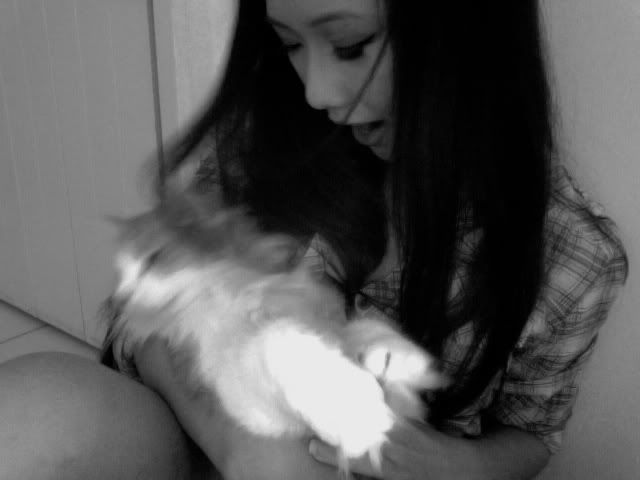 Too lazy to be taking my dslr out to snap photos plus I was already on my macbook so why not use photobooth instead right? :D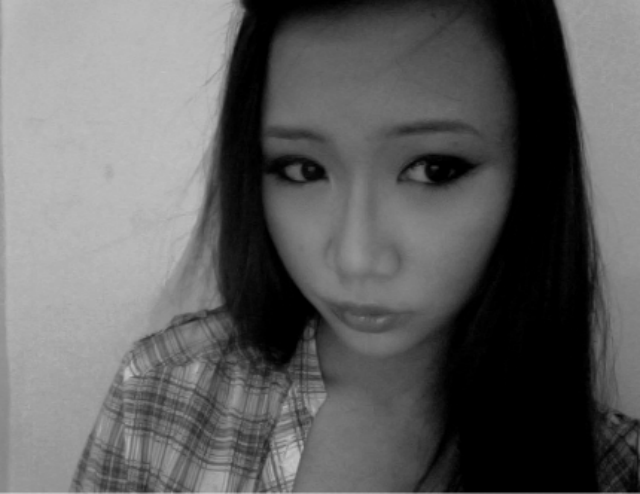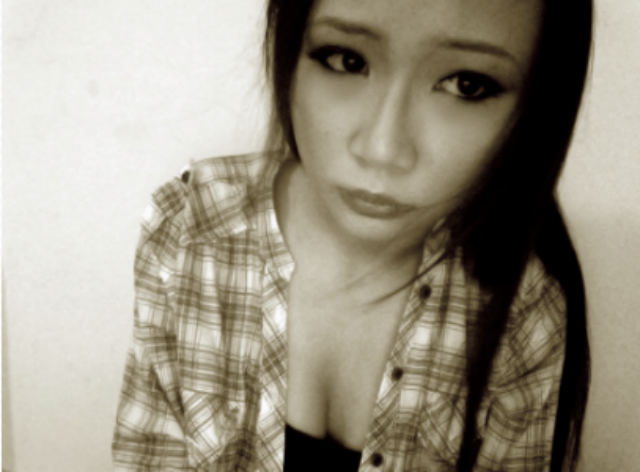 Like how I would normally do, I pulled tiff in to snap a few shots with me. She seemed so reluctant la! I feel bad.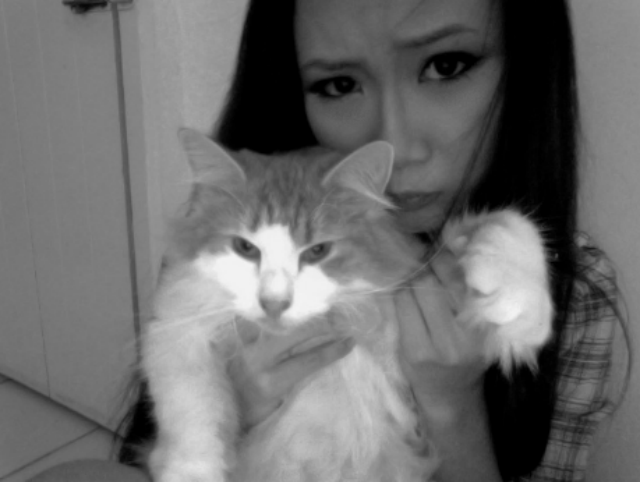 And to my already-asleep boyfriend; I miss you, hopelessly...maybe even more now that we're spending plenty of time apart thanks to my busy school schedule but that doesnt change anything. That wont be enough to make me forget the annoying times we spent wrestling each other till we both got injured though, the many lonely dates we spent in ssc and of course every single thing we went through from day 1 till now. I'll be within your reach when you wake tmr. I promise. Love ya.
P.S. do me a favor and click on my nuffnang ads? Or do pop a question over at formspring if you guys have any suggestions on what you'd like my posts to be about. That'd be of great help to me! (: